Posted by Samira Rajan @ June 13 2018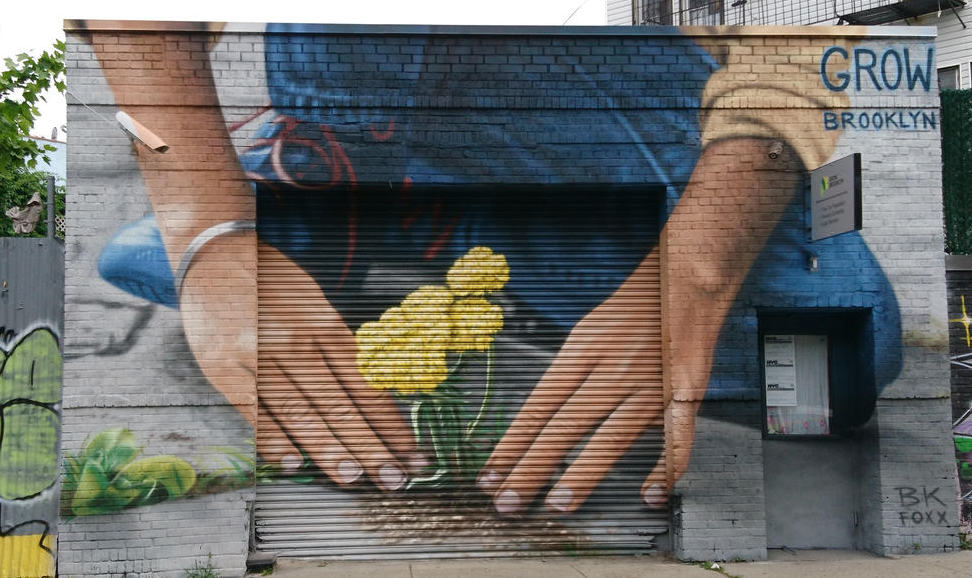 Our mural is here!!  It was painted this past weekend by the renowned local muralist
BKFoxx.
For years now, the facade of 315 Grove Street has been rather awful. This is the other entrance into Brooklyn Coop's Bushwick branch location and is the one that
Grow Brooklyn
staff and programs use primarily. The
free tax prep
site held at 315 Grove each year is one of the city's largest tax sites with about 2,000 tax returns prepared each season.
I wanted us to look better for all those people coming into our entrance, as well as for our staff and Board. Last fall Michael suggested we ask BKFoxx to paint us a mural given how lovely her work and how rooted in the neighborhood she is. We asked, she agreed immediately and we were off!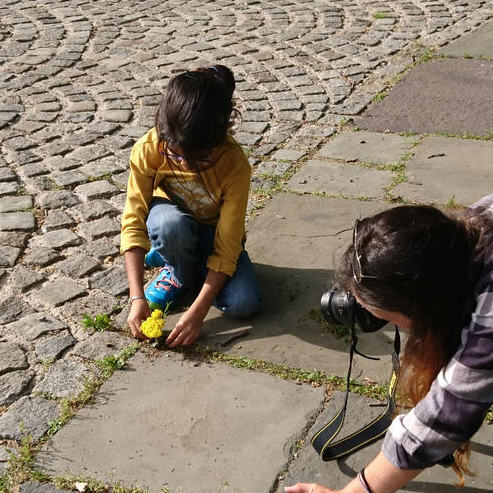 Getting the perfect photograph that BK could then translate onto the wall was a ton of fun. Our model was cooperative and good-spirited (he is also my son!), and we tried out a couple of different plants and flowers one Sunday afternoon.
So far our neighbors on Grove Street have appreciated this bit of art on our block. I hope that it will inspire our clients, our members, and our staff.  Maybe we'll have a mural-viewing block party this summer!
My son marveled at the work in progress.
BK and I came up with the idea of a plant breaking through the sidewalk. Concrete dominates Bushwick's built environment (it is the Community District with the lowest 'acres-of-open-space' in NYC according to the
Furman Center
), yet its oppressiveness is not invincible. The energy of a little plant — pulled by the sun — is enough to break through. It is a common sight and, to me, it represents an indomitable will to thrive, a resilience that remind me of Grow Brooklyn's clients and Brooklyn Coop members.
The hands in the mural represent the role of Grow Brooklyn and Brooklyn Coop. By offering ways in which families can strengthen their financial security, we're building that resilience.  We didn't plant the seed, but we recognize its uniqueness and can nurture its growth.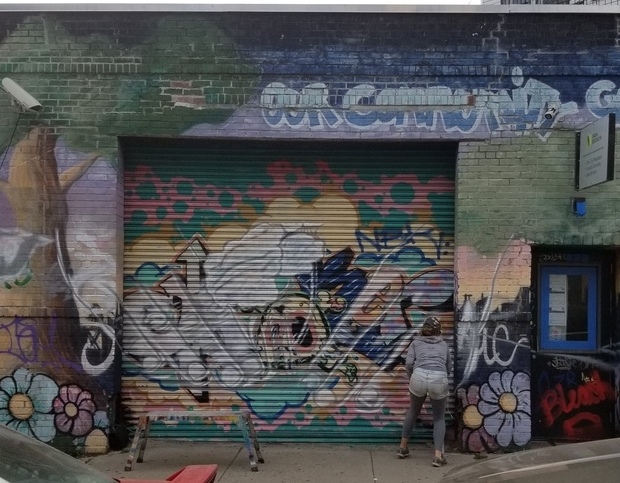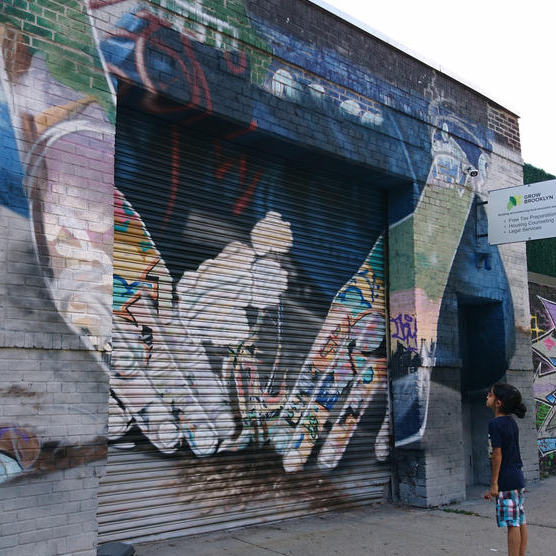 Samira Rajan is the longest-serving employee of Brooklyn Coop and currently the Director of both the credit union and Grow Brooklyn.
She started here as an Americorp*VISTA for a single year of service back when we were Bushwick Coop in 2001, got hooked by the challenge of building a community financial institution, and hasn't left.