Welcome to Brooklyn Cooperative's blog!  We decided to start a blog as a way to introduce ourselves. Credit unions aren't as familiar to most people as banks, though our services are likely better suited to their needs. Hopefully, through this blog, we will show that.
Time Capsules: Mar 23- Apr 4, 2020
Posted by Samira Rajan @May 16 2020
Even in ordinary times, I am a pretty linear person — I have to start at point A and reach point B before heading to C.  That's why I'm resorting to a timeline to describe the overwhelming rush of events and emotion that overtook us 9 weeks ago.  Previous capsule. 
Week Three, starting Monday March 23.  Monday morning Becky, Cathie and I went over a revised schedule for both branches. Uppermost in our minds were the difficulty in traveling and anxiety regarding crowds facing the skeleton staff.  On the other hand, we had to keep our members' confidence. We had to be available to answer their questions, modify loans, print debit cards and effect transactions. That was our job. 
Week Four, starting Monday March 30.  Government actions came at a dizzying pace. The courts closed, mortgage payments were deferred, foreclosures and evictions stopped. By now the VITA program could no longer responsibly offer in-person tax services. Still it would take another 2 weeks before the IRS officially changed the tax deadline, leaving our tax staff and clients caught in an impossible position of deciding between risking a deadly illness or tax penalties. Among our peers, we were the last standing, yet finally we also ceased operations. 
Cathie put 5 'X' marks on the floor of the Myrtle lobby. If a member occupied each of those marks, everyone else had to wait outside. I began to wear a mask regularly.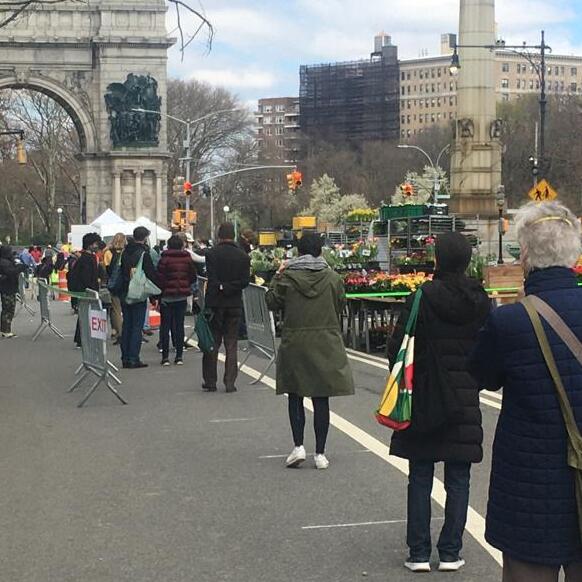 Above: social distancing at the Farmers Market at Grand Army Plaza, Apr 4 2020. Below: Samira's mask on Mar 31.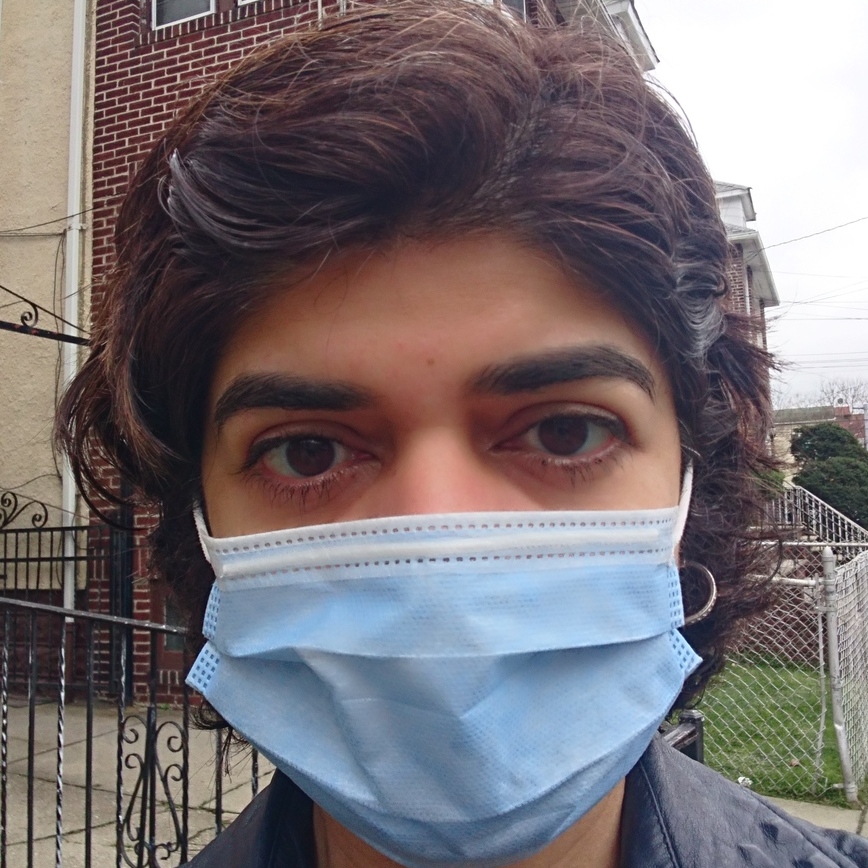 Congress passed the CARES legislation. I comprehended (faintly) that many of its provisions would affect our members, such as the $1200 economic impact payments and a small business loan program run by the Small Business Administration. As an SBA lender for over a decade, BCoop would naturally participate as soon as the SBA figured out how the program would work and sent us their guidelines.
But events sped on faster than we could have imagined. At 6am on the morning after the PPP legislation had passed, I woke to find 43 PPP inquiries from desperate business-owners all over Brooklyn. This tsunami broke before Daniel and I could brace for it. Still, what choice did we have? 
The loan program was gargantuan — $350 BILLION!  This was a tremendous boon for our communities and we had to respond. Twenty-four hours later, dismantling more than a couple of our fundamental underwriting rules, he and I sketched out a plan: 
– Our maximum PPP loan would be $250,000 as compared to $100,000 ordinarily for business loans;
– We would take applications from non-members and worry about account opening later (sorry, Cathie!);
– We would triage BCoop members first, then Brooklyn businesses, then non-profits;
– We would default to our established list of application requirements, paring away the unimportant ones as SBA guidance was released;
– Samira would take on the front lines of responding to inquiries and compiling documents while Daniel, Jesus, Claudia, and Yeny processed applications.
– The maximum volume we could comfortably do given our size was $5 million.
The essentials decided, we turned back to our inboxes. 
Samira Rajan is the longest-serving employee of Brooklyn Coop and currently the Director of both the credit union and Grow Brooklyn.
She started here as an Americorp*VISTA for a single year of service back when we were Bushwick Coop in 2001, got hooked by the challenge of building a community financial institution, and hasn't left.