Brooklyn Coop's account services for businesses are flexible and affordable. We can open accounts for a wide variety of businesses. Our online as well as teller account services help you manage your account in the way that works best for you.
All the Essentials for $1 per month
For a $1 monthly fee, a business can utilize a wide variety of free services such as online banking, unlimited ACH transactions, bulk cash deposits, and receipt of wire transfers. Rather than writing physical checks, members can utilize Brooklyn Coop's free online bill pay system which allows for business payments as well as person-to-person transfers.
An ATM-only card is available for members that wish to make deposits into their account using our ATM machines, or to make cash withdrawals. There is no additional monthly fee, only a $1 fee per ATM transaction.
Additional services such as origination of domestic or international wire transfers, money order, cashiers checks, etc… are also available (click here for a list of account services and their fees).
Benefits of Business Checking
Checking accounts are best suited for businesses that often write physical checks, or businesses that need a debit card to make purchases. No minimum balance is required; a flat $25 monthly fee is charged.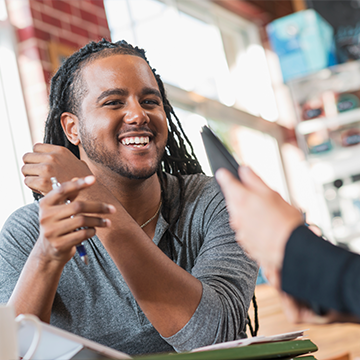 Minimum Required Documents To Open a Business Account
To begin, all signers on the account must be present when the account is opened. Each signer must bring in a government-issued photo ID and proof of their social security number or ITIN letter. Depending on the type of business, please bring in the following documents in addition to the the $25 membership fee and $5 minimum savings deposit.
Sole Proprietor
Copy of proprietor's Assumed Name or D/B/A papers
IRS issued EIN
A piece of mail as proof of address
LLC
Articles of Organization
Resolution of Authority or Operating Agreement authorizing the opening of an account, signed by the members/managers who are authorized signers on the account
IRS Issued EIN Letter
A piece of mail as proof of address
Corporation
Articles of Incorporation or Certificate of Incorporation
Corporate Resolution letter identifying authorized signers signed by the secretary of the corporation if the authorized signers' names are not listed on Articles of Incorporation or Certificate of Incorporation,
Certificate of Good Standing if the Certificate of Incorporation is over 10 years old
IRS issued EIN letter
A piece of mail as proof of address
Association
Organization Resolution: a letter authorizing the opening of an account, listing the signers of the account, and signed by the governing member(s).
Government Issued photo ID and proof of social security number or ITIN for each signer on the account
A piece of mail as proof of address
An IRS issued EIN number is required only if opening a checking account
Partnership
Partnership Resolution authorizing the opening of an account, listing the signers on the account and signed by the partners
Partnership Agreement
Partnership Certificate – issued by county in which the business operates
IRS issued EIN letter
A piece of mail as proof of address
Non-Profit
Resolution authorizing the opening of an account, listing signers of the account, signed by the governing members
Articles of incorporation, if organized under state law
IRS Issued EIN Letter
A piece of mail as proof of address